Parkway Park, Santa Clara, CA
3675 Forest Avenue, Santa Clara, CA
http://cho.ci.santa-clara.ca.us/3041.html#parkway
A small secluded park where we hold fighter practices. Near the intersection of Steven's Creek Blvd. and San Thomas Expressway, it is a central location in the South Bay.
Directions:
From Stevens Creek heading towards San Jose (East), make a left onto Harold Ave (the first street after San Thomas Expressway). Then Make a left onto Forest Ave., a few streets down. The park is at the end.
From San Thomas heading north towards Milpitas, turn right onto Saratoga Ave. Make a right at the next light, Pruneridge Ave. Turn right onto Harold Ave. (about two streets down). Then, make a right onto Forest Ave. The park is at the end.
---
Zoomed out map to Parkway Park, showing freeways and other major streets.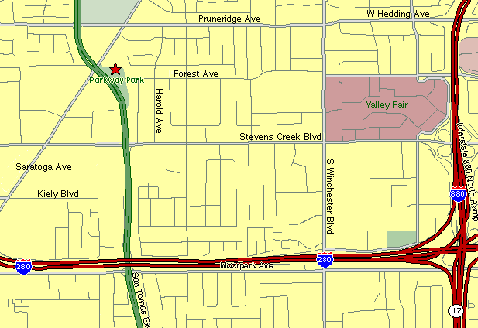 Close view of Parkway Park, showing close streets.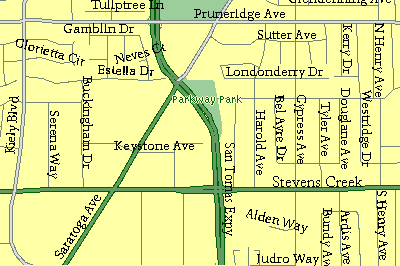 ---
[ HOME ] [ EVENTS ] [ FANTASY ] [ REALITY ] [ BOARDS ] [ GALLERY ] [ CONTACTS ]
---
Entire Site Copyright © 2001 NERO® West, All Rights Reserved.
Portions Copyright © Nero International Holding Company, Inc.
NERO® is the Registered Trademark of NERO® International Holding Company Incorporated. USPTO Registration. # 2,270,409