Ranch House, Portola Valley Ranch, CA
A site for our feast day, nestled in the edge of the foothills in Portola Valley, CA. This building can hold about 30 people and has a small kitchen and some access to outdoor facilities. It's easily accessible off of 280.
10 Indian Crossing, Portola Valley, CA 94028
Directions:
From 280, take the Alpine Road exit west, towards the hills. (Alpine Road exit is between Sand Hill Road and Page Mill Road exits)
Turn left on Indian Crossing. (Indian Crossing exit is a left hand exit only, just past Portola Road stopsign and right next to Corte Madera school.)
Continue on Indian Crossing, over the little rise, past the stop sign, and take a right before you get to the tennis courts and vineyard. We'll put a sign out for NERO. Park just past the roundabout.
---
Maps
Zoomed out map to Portola Valley Ranch House, showing freeways and other major streets.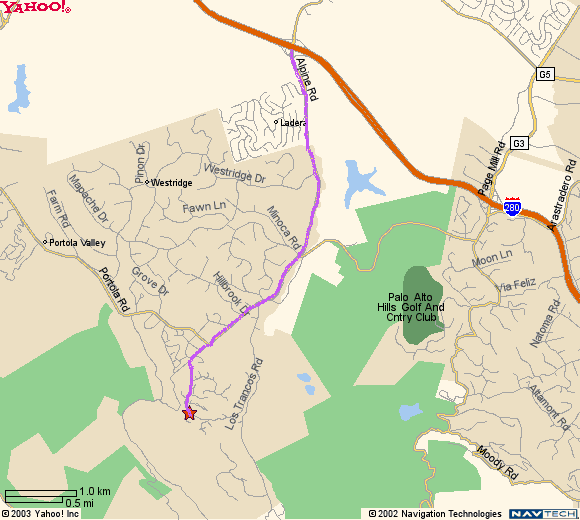 ---
Close up of Portola Valley Ranch and the Ranch House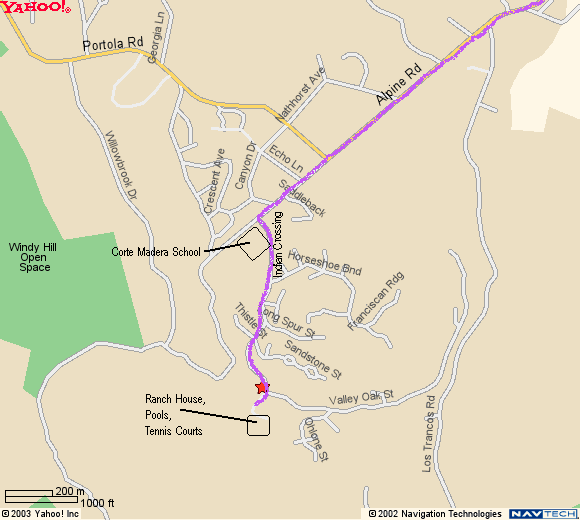 ---
[ HOME ] [ EVENTS ] [ FANTASY ] [ REALITY ] [ BOARDS ] [ GALLERY ] [ CONTACTS ]
---
Entire Site Copyright © 2001 NERO® West, All Rights Reserved.
Portions Copyright © Nero International Holding Company, Inc.
NERO® is the Registered Trademark of NERO® International Holding Company Incorporated. USPTO Registration. # 2,270,409